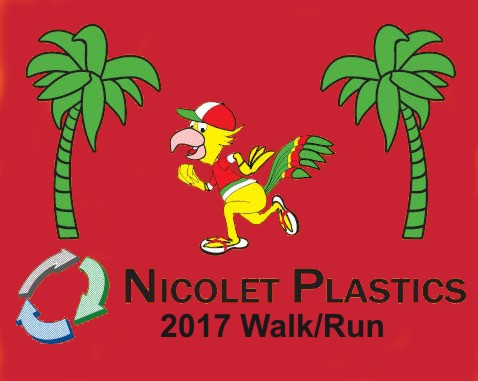 Nicolet Walk Run
June 17th, 2017
Pre-Registration Fee $25
After May 30th Fee $30
The 14th Annual Nicolet Walk/Run will soon be upon us! Have you started your training yet? This year's event will be held on Saturday June 17th, 2017 beginning at 9 AM and will again circle around scenic Maiden Lake. Co-Sponsors for this event, Nicolet Plastics and the Pirates of the Northwoods Parrot Head Club.
The event has been able to donate almost $72,200 to area emergency response departments since the event began in 2003. Besides being a way to raise needed funds for the area departments, it also provides an opportunity for friends and family to get some exercise and enjoy each other's company while taking in the scenic beauty of Maiden Lake as participants make their way around the 4.37 mile route. Mark your calendar and plan on joining us for this year's event.
Sign up forms will be available beginning April 1st at Lakewood Super Valu, Nicolet Plastics and other area businesses. You can also sign up online again this year by clicking 2017 Online Registration. Also, if you participated last year, you will be receiving a sign up form via mail or email. So find your exercise clothes, start training and pray for sunshine on June 17th !!
Join us on June 17th, 2017 as we walk or run around our 4.37 mile course along the edges of beautiful Maiden Lake in the Heart of the Nicolet Forest, Mountain, WI. We are situated about 80 miles northwest of Green Bay, or 40 miles east of Antigo and west of Marinette. Make weekend plans to stay overnight through the Lakewood Area Chamber Website
Teams
Corporate and local businesses are invited to sponsor teams. Come on out! Teams of 4 or more - $20 per person. Must register by May 30th to receive this price. Click here to download registration form.

SPONSORS
Proceeds from our event will go to the Area Volunteer EMS Units. Contact LeeAnn at (715) 276-4269 or Email LeeAnn Anderson, with questions or if you are interested in being a sponsor.
Walk/Run Information

If you are Pre-Registered, you may pick up your packets at Tri-Fitness, Hwy 32, Mountain, WI

2 PM until 5:30 PM, Friday, June 16th